Blue Current is a innovative player in the fast-growing European market for EV chargers. The Dutch company has opted for its own approach, for which a sophisticated 'back office' software platform was developed to remotely control each charging station.
Helder-id was asked to take care of the development and realization of a completely new portfolio of modular charging solutions that fits the innovative Blue Current approach.
Industry
Professional
High-tech
Mobility
Services
Design strategy
Product design
DFM
Process & Tooling management
Realization
An increasing number of home-users are not so enthusiastic about the plastic EV charging cabinets mounted to their homes. Blue Current came up with a solution in which a fixed cable is installed in a non-intrusive way with all the control and load balancing electronics efficiently installed in the meter cupboard. For this, Helder-id developed a new cable entry system with smart reel to neatly store the cable and secure the connector in a safe way using a clever magnetic holder.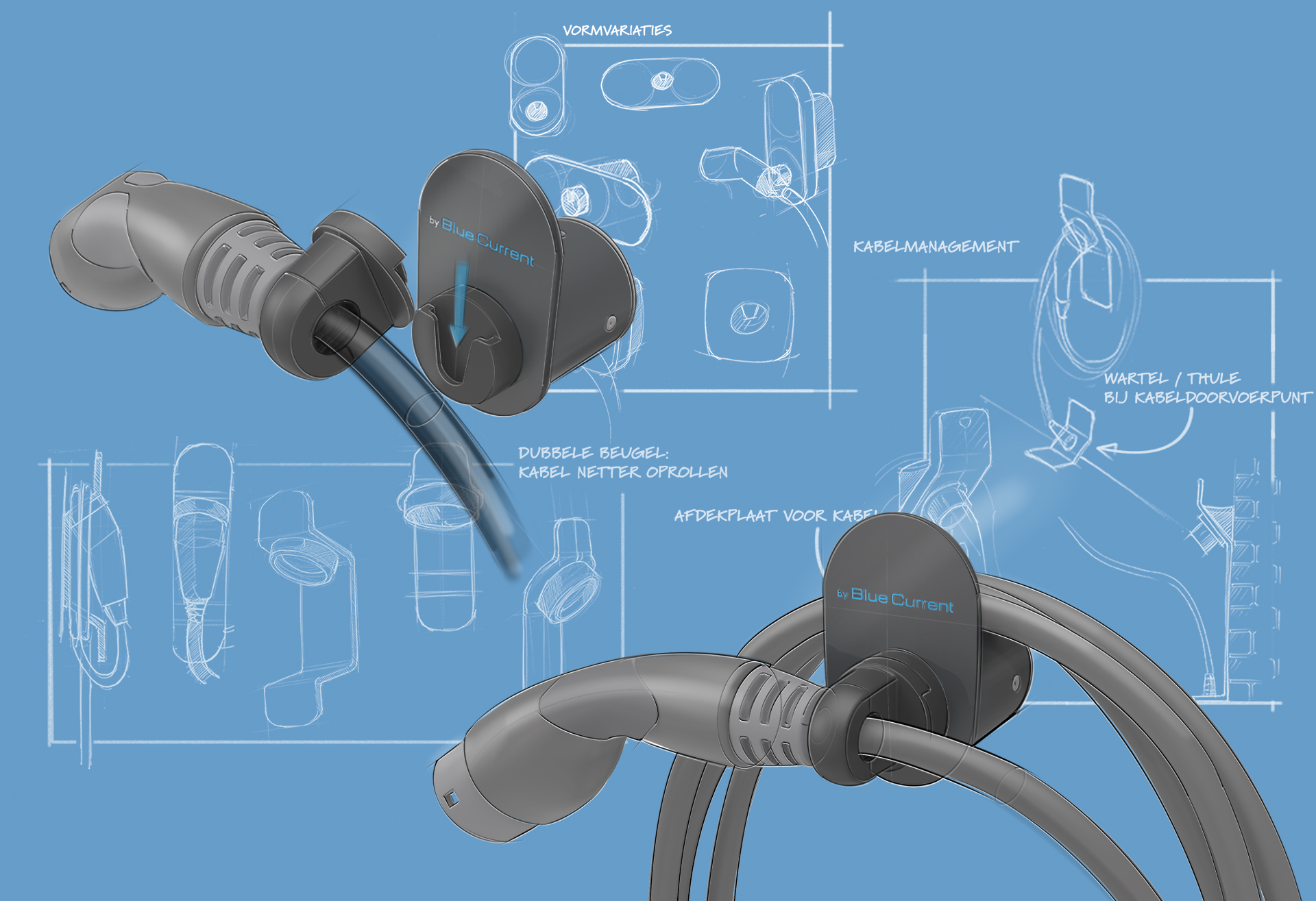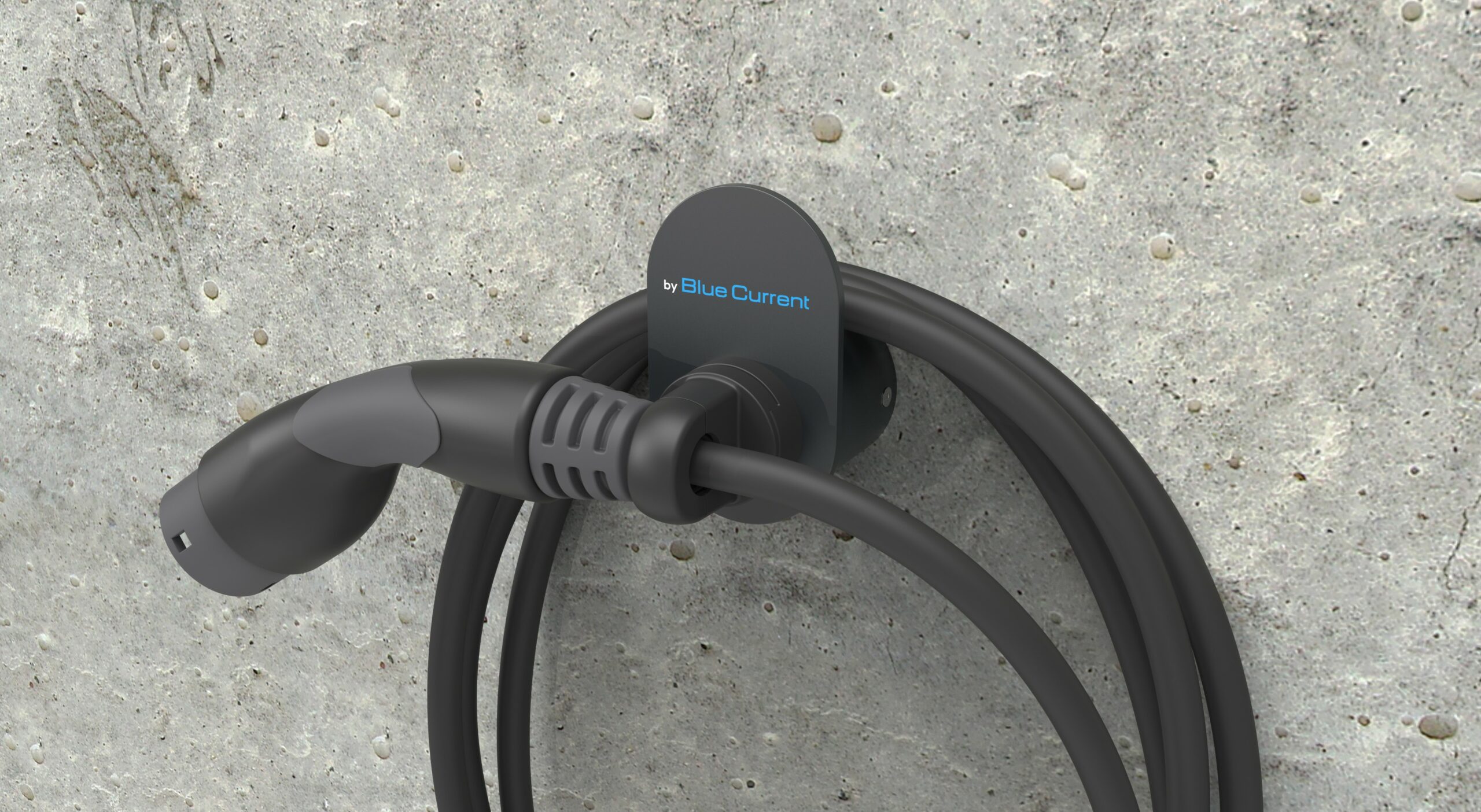 Intuitive magnet connector
Only cable visible, electronics are hidden in fuse box
More and more car parks and parking garages are running EV-charging points. Instead of using complete charging stations, it is much more efficient to use simple posts or wall boxes equipped with just connectors and card readers, with all necessary electronics housed in a central location. Moreover, the visual influence on the environment is therefore much less intrusive and it is also a lot easier to flexibly operate the available parking spaces.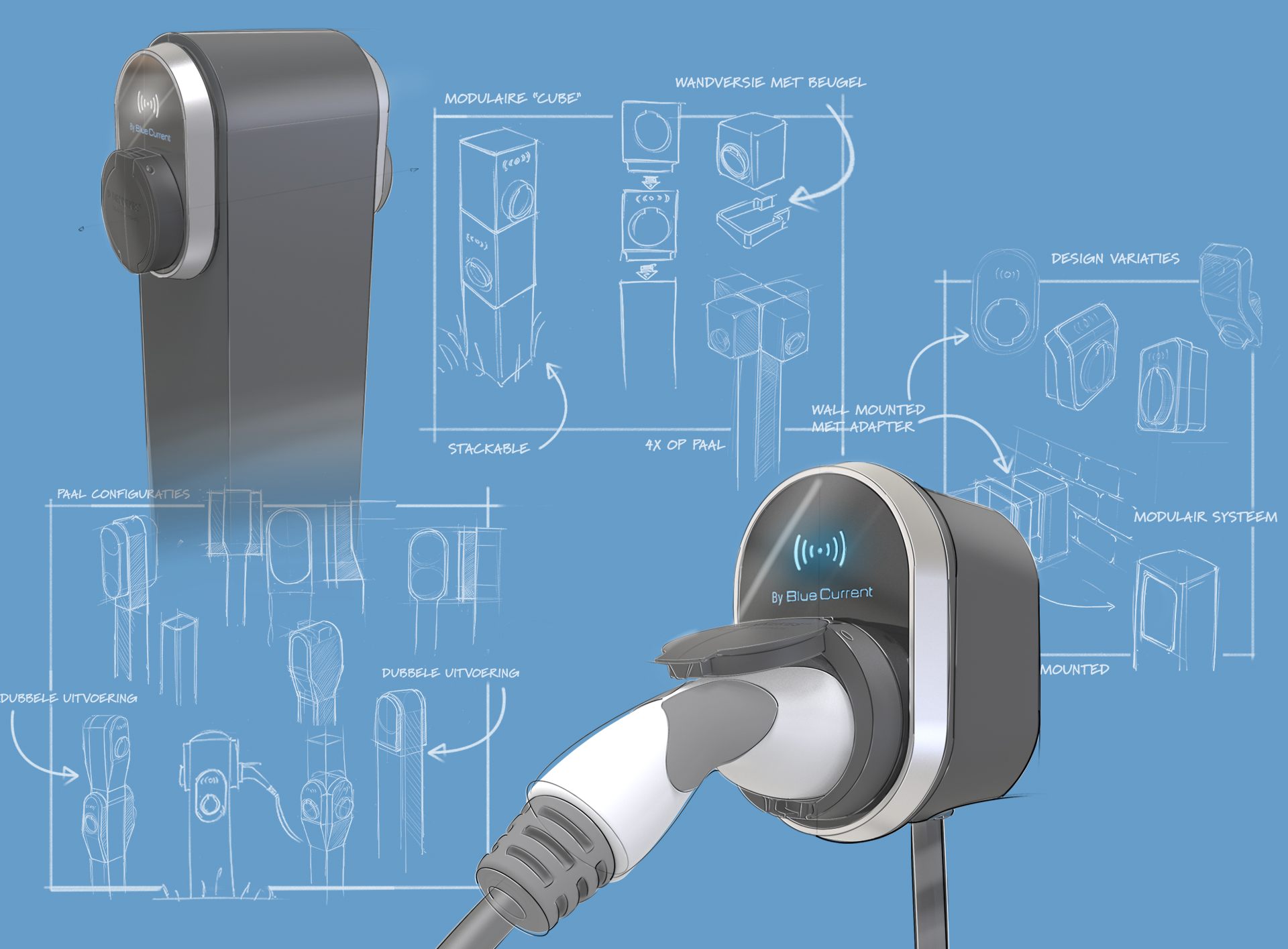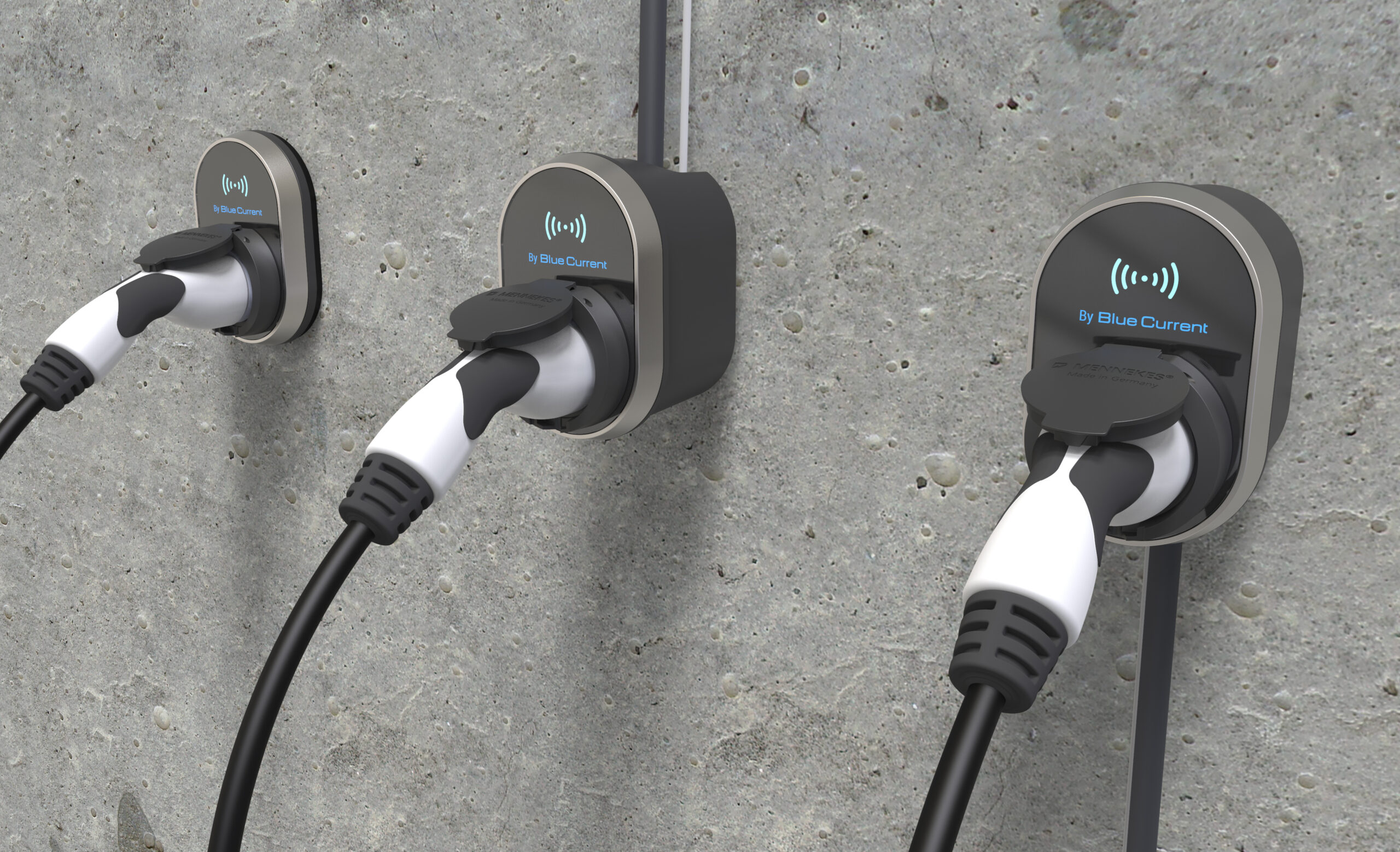 RFID reader for charging card
NanoCharge smart modular EV-sockets are available as:
• Wall-mount smart EV-socket
• Flush-mount smart EV-socket
• Charging pole with 1,2 or 4 smart EV-sockets
The NanoCharge wall-mount and flush-mount sockets allow flexible installation and are prepared to fit a variety of cable types coming from different directions.
Due to the strong growth of public charging points in the public space, municipalities increasingly want to ban visually disturbing charging devices. With this tendency in mind, Helder-id has developed a series of modular NanoCharge charging poles, which are prepared for 1, 2 or 4 connectors. With this, Blue Current can now offer the possibility to place charging points in the public space in a very restrained and unobtrusive way.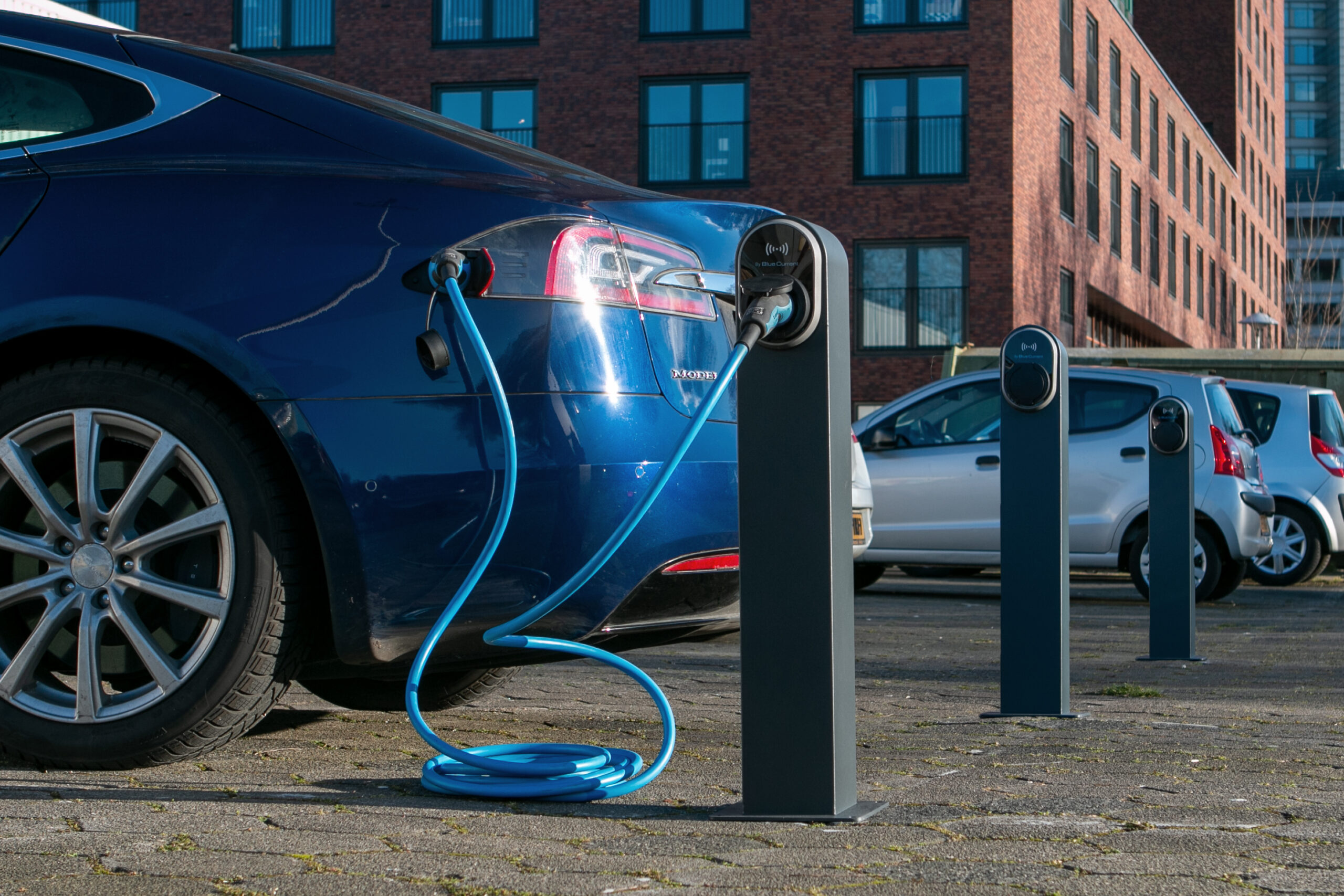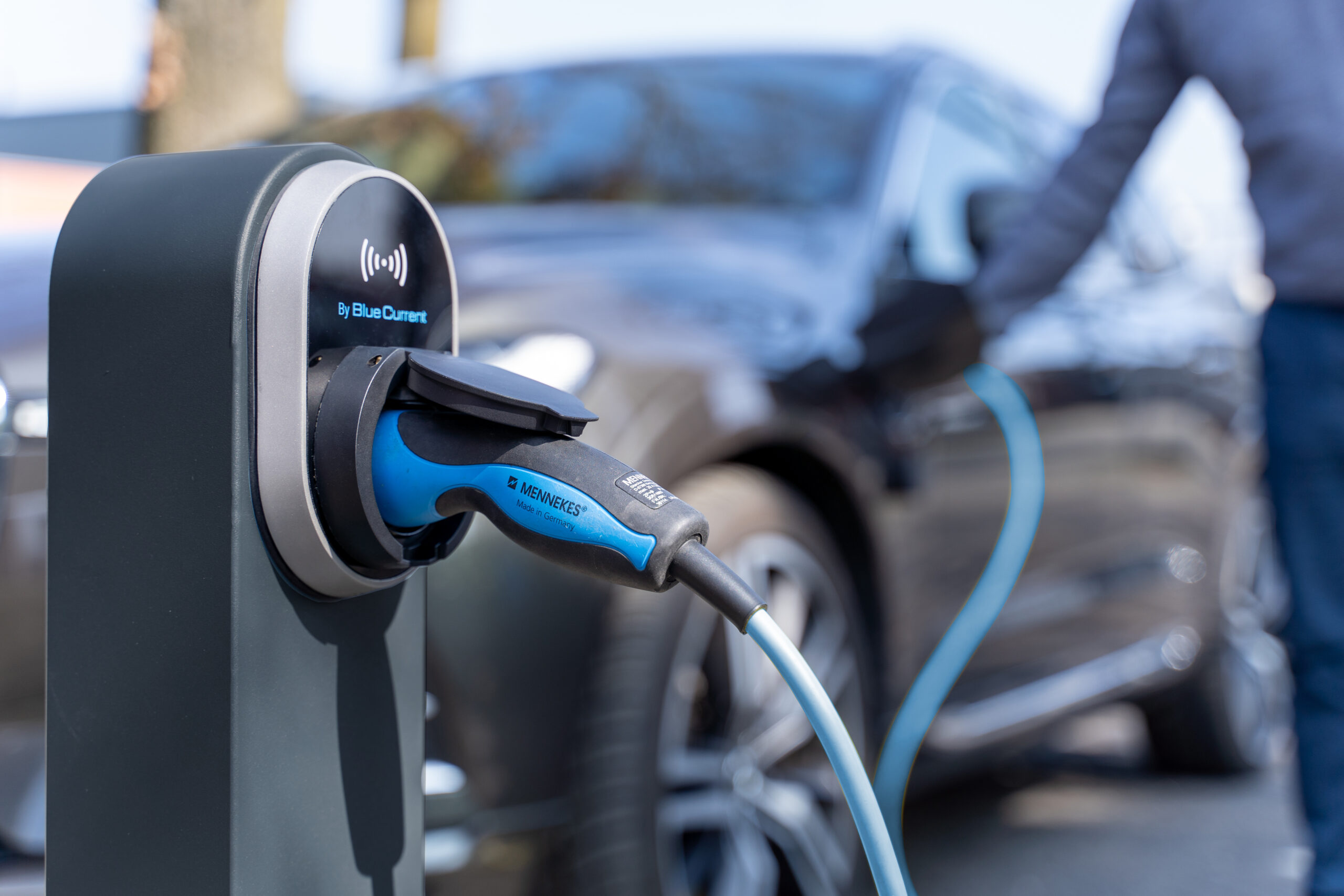 A textbook example project
The Blue Current projects give a good picture of the great diversity of techniques that are applied within the Helder-id product development projects, such as injection molded plastic components, welded tubular metal parts, sheet metal construction, investment casting of stainless steel, silk screen printed plastic panels, different adhesive techniques, integration of electronic components, usability aspects etcetera.
The new portfolio of BlueCurrent products has been realized in close collaboration with our vast network of development & manufacturing partners. This included design verification, design for manufacturing, sourcing & procurement of tooling and process optimization.
Like our work?
Feel free to share