Modular enclosure for micro data center
In this project, Helder Industrial Design is taking part in a European Union cooperation project that is aimed at developing a smart modular enclosure and cooling system for a new 'micro data center' that is specifically aimed at 'Edge Computing'. The idea behind the project is bringing processing power and data storage closer to the location where it is needed. Such a distributed computing framework results in improved response times and better bandwidth availability, which are essential to realizing the full potential of artificial intelligence (AI), machine learning and internet of things (IoT).
AI and IoT technologies are more-and-more being infused into our lives, for instance via 5G, autonomous driving, smart buildings, remote robotics, and healthcare applications. This was also acknowledged by the European Union, which has set up the ECSEL Joint Undertaking (Electronic Components and Systems for European Leadership), a special task force under the research and innovation funding program Horizon 2020. Under this scheme, an international collaboration has been established in which more than 20 research institutions, established IT companies and SMEs work together in the project BRAINE (Big data pRocessing and Artificial Intelligence at the Network Edge, see https://www.braine-project.eu/).
Within this project, Helder-id is working on the development of the Edge Micro Data Centre hardware platform (EMDC), in close collaboration with, among others, the Dutch HIRO Microdatacenters, the Hungarian PCB-Design and the Swiss JJ-Cooling. Hardware components are supplied by DELL, NEC, Mellanox and others. Helder-id is taking care of the design and development of the system's non-computing hardware components, especially the enclosure and cooling system. The project started in 2021 and will be completed at the end of 2023.
Industry
Professional
Hight-tech
Healthcare
Services
Product design
Engineering
Prototyping and testing
Graphic design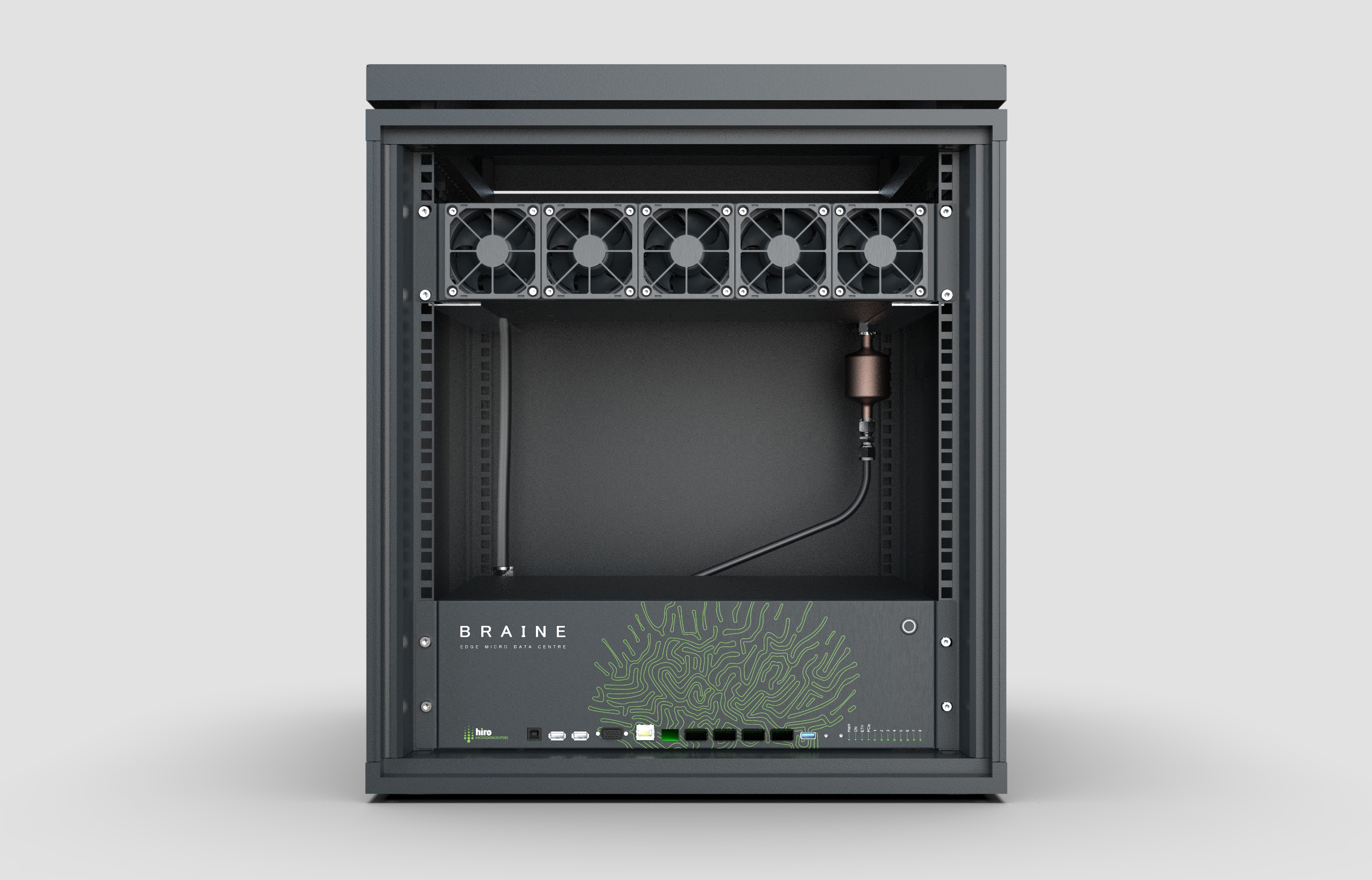 The Edge Micro Data Centre is built according to a modular concept in which different nodes (processors, graphics, memory etc.) connect to a specially designed backplane. In this way, each EMDC can be configured for specific applications. The backplane is attached to a monoblock cooling system, allowing for a very compact and robust configuration, capable of dissipating all generated heat. The electronics are enclosed in a versatile housing that can be applied in a variety of ways, with a separate heat exchanger module that can be positioned externally.
Proper cooling of the electronics is an essential part of the 'micro data center'. Because the density of processing power, graphic acceleration and system memory is enormous, an exceptional amount of heat must be dissipated efficiently. To this end, an innovative thermosyphon cooling system has been developed based on a monoblock plus external condenser in which the coolant circulates without the aid of moving parts. Each individual EMDC node that packages the individual PCBs with specially designed heat spreaders, is firmly pressed to the heat transfer bridges of the monoblock. Wedge locks are used to create sufficient force. At the same time, the nodes are plugged into high-precision backplane connectors. Expansion and contraction due to dissipated heat can cause intolerable stresses on the connectors. Therefore, controlling tolerances form an important point of attention.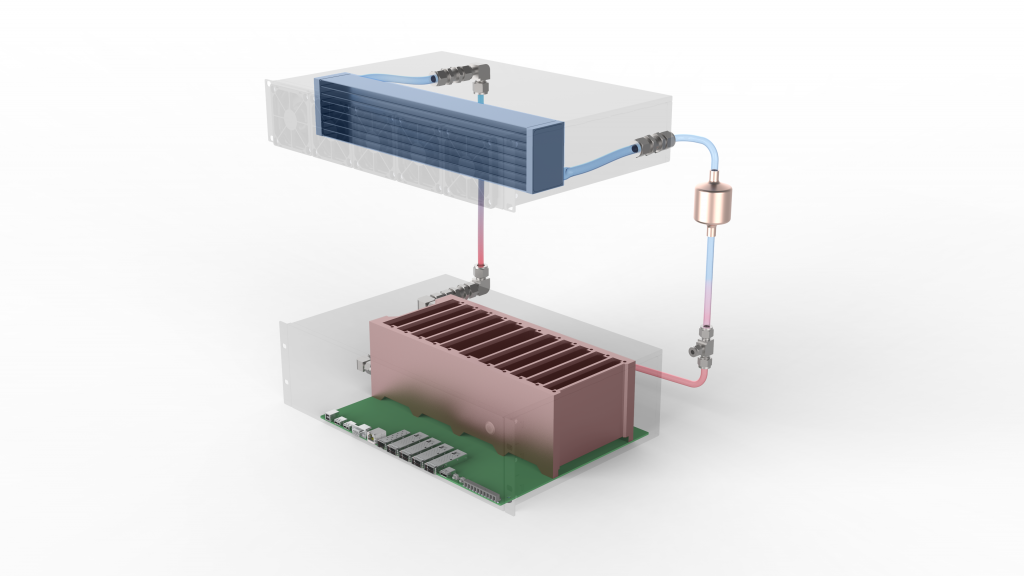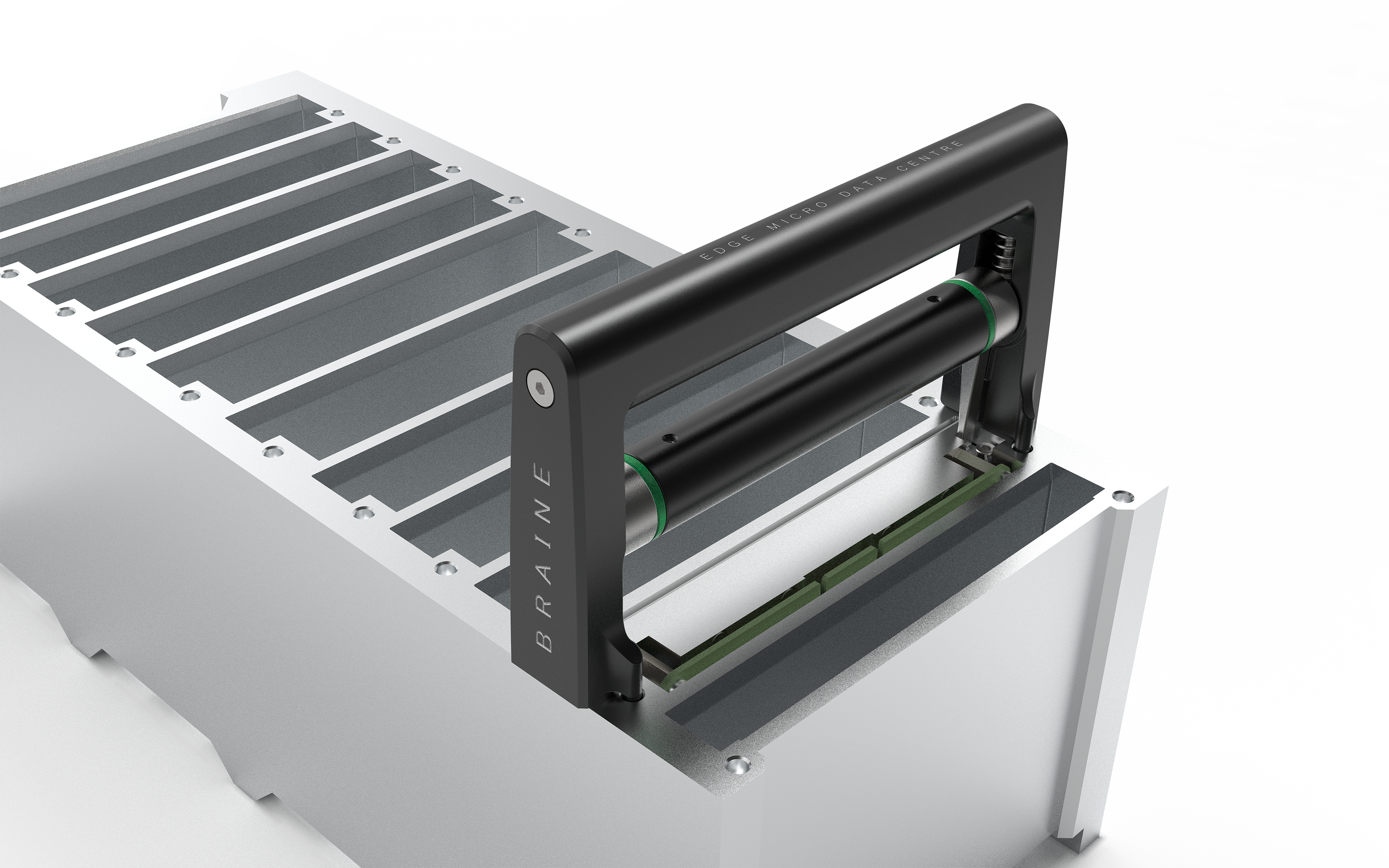 The individual EMDC nodes are pushed into the slots of the monoblock directly into the underlying backplane connectors. Because the force required to pull the nodes out of the connectors is considerable, and the space to maneuver is limited, Helder-id has developed a special ejector tool. With this precision instrument, the delicate PCBs can be removed in a controlled manner.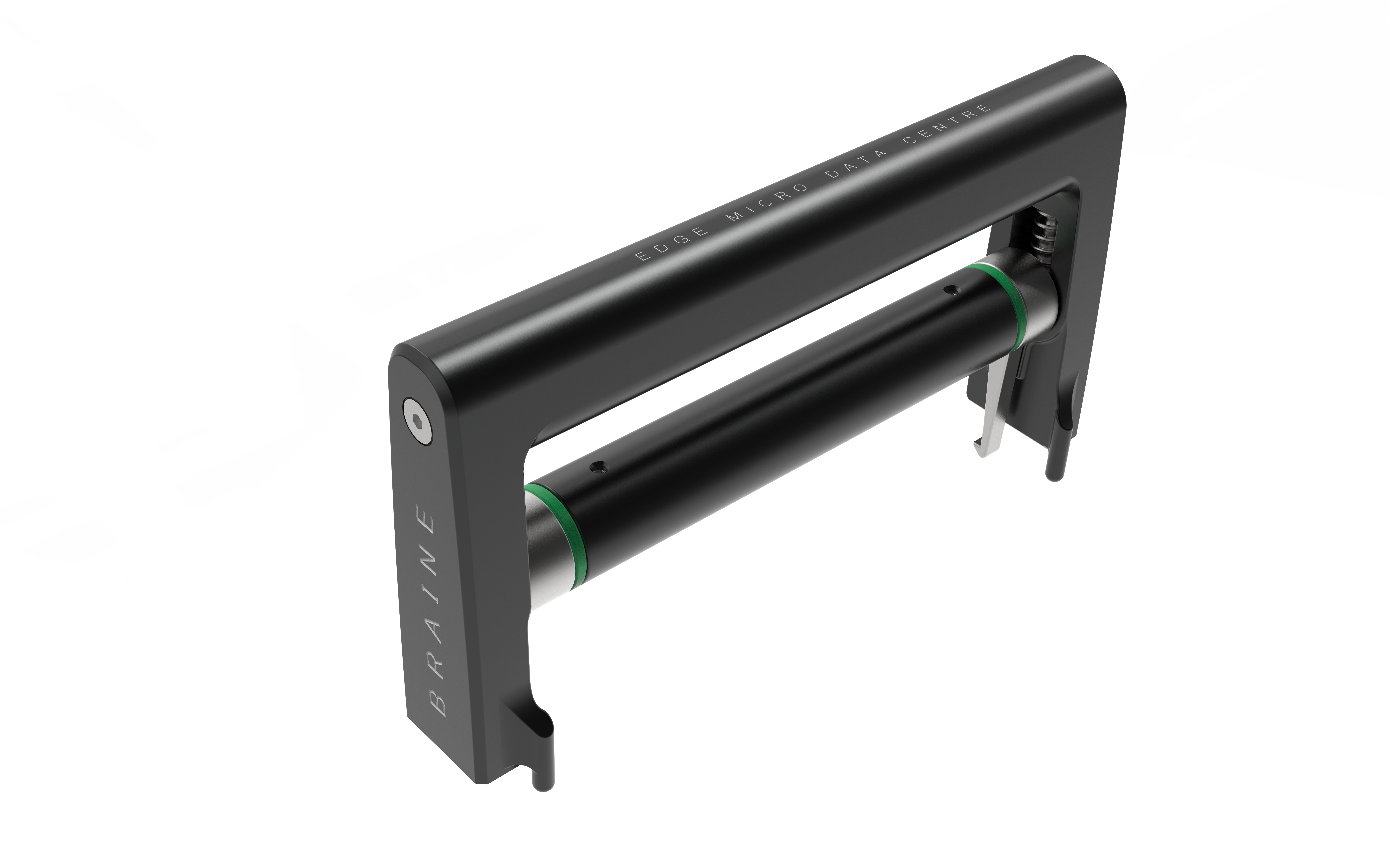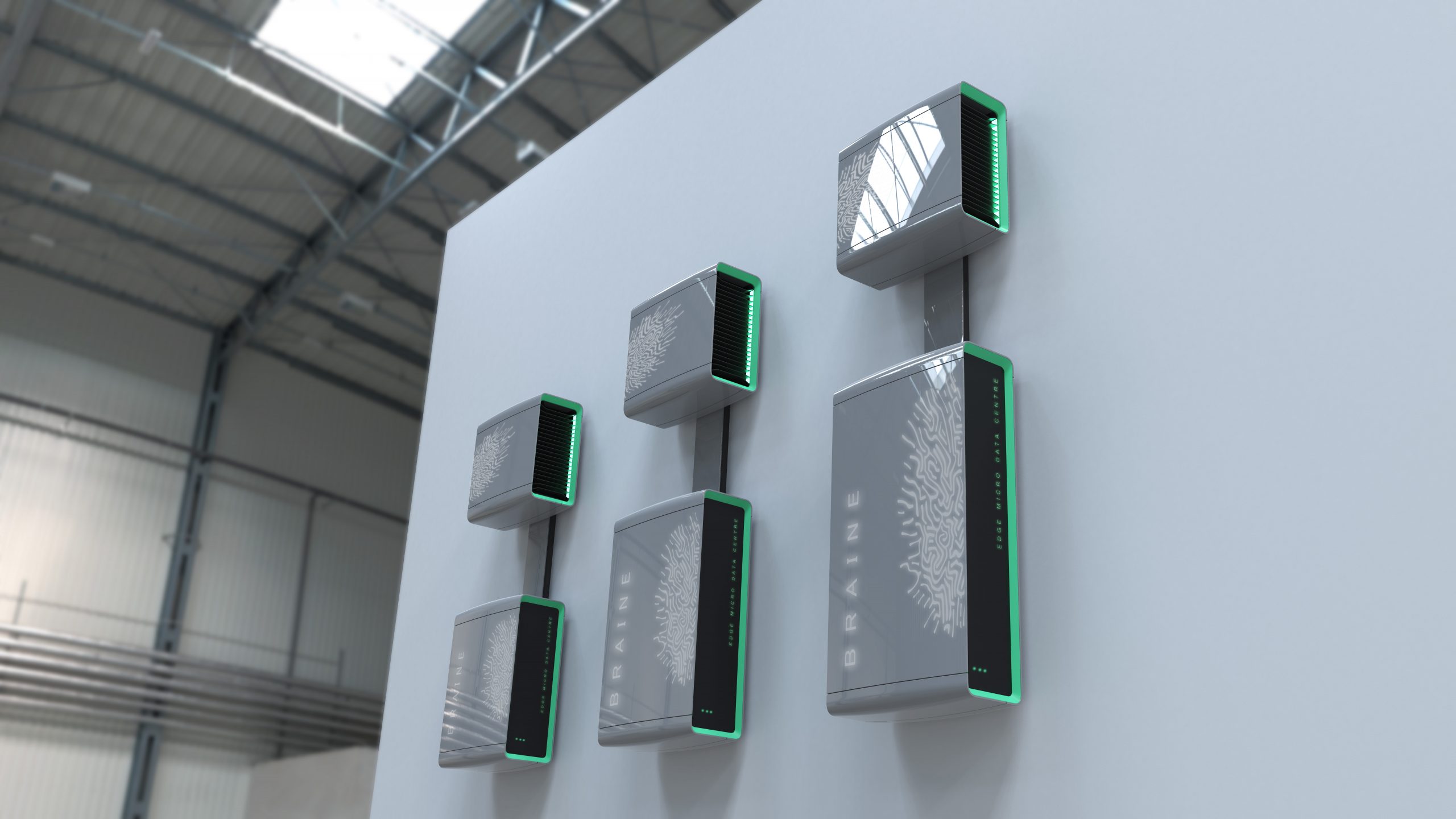 Helder-id has designed a stylish and user-friendly housing for the BRAINE micro data center that can be used for various applications. Starting point was a robust unit with a compact form factor, which makes it easy to integrate into a variety of user environments. The system enclosures can be interconnected to expand computing capacity. Because there may also be outdoor applications, a weatherproof version will also be realized. This also applies for the matching enclosures for the condensing heat exchanger.
During the project, Helder-id developed and realized various prototypes in close collaboration with the other development partners to test interim results. This included various parts and tools, and also a customized 19" rack testbed, which was used to test the fully integrated technical systems in various forms. Helder-id took take care of the realization off all hardware parts and the assembly of a representative prototype of the final system aimed at long-term testing in 'real life' situations.
Like our work?
Feel free to share